It is all very well having a wardrobe that is cool with some great one-of-a-kind pieces that you have collected over the years, but you should always try to make sure that you have a healthy collection of accessories too that you can use to vamp up your outfits and alter how they look. Accessory trends change much in the same way that clothing and shoe trends do, so it is a good idea to keep an eye on what is happening with the styles.
The good thing about keeping your accessories a la mode is that you can avoid updating your wardrobe quite as often as you otherwise would. With the right accessory, you can make last season's top look like the very latest thing this season, so don't be afraid to experiment a bit when it comes to how you wear your accessories. For some stunning pieces that you can pick up this season, read on.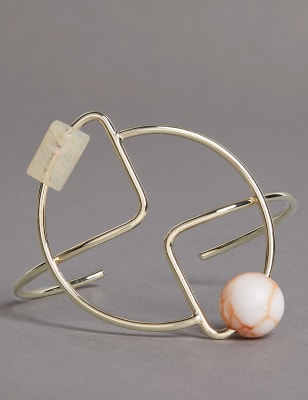 For an incredibly eye-catching piece of jewellery that looks like it cost hundreds of pounds rather than a rather more reasonable £15, this bracelet cuff is absolutely perfect. It comes from one of the most popular shops on the high street Marks and Spencer, and although they can sometimes suffer from a fuddy-duddy image, their collections are actually great places to find signature pieces that are great quality, have a timeless look about them, and which are really reasonably priced. This particular cuff has a really lovely design that is quite modern whilst still giving off the air of being suitable for the Great Gatsby and flapper era. With bare arms and a sleek modern outfit, this cuff will really speak for itself and is the perfect focal point for a simple outfit.
Some simple dangly earrings can sometimes be all that you need to brighten your face and lift your outfit, and this simple bargain pair from Forever 21 mean that you can afford a gorgeous pair even on a tight budget. The shocking pink will look great with a tan and will really draw attention to your face, whilst the tassels are one of the biggest trends that we have seen on the catwalk this season. They are lightweight too, meaning that you can easily wear these pink beauties during the daytime from morning to evening, and on a night-out without feeling as if your earlobes are going to drop off! Easily channel the laid-back bohemian look with these ear-rings.
And finally for a gorgeous and practical bag that you can take to the office or the beach, this lovely and high quality tote bag from River Island is a great investment to make. In quality leather with a stunning silver metallic finish, you can complete any outfit with this show-stopping bag. Its simple design makes it pretty timeless and it even comes with a matching coin purse attached on the inside for that little extra sign of luxury chic. Indulge in this bag and you'll find that you are using it everyday!